In our recent international survey, we asked more than 45,000 singles in 15 countries to share stories of the worst first dates they'd been on before joining EliteSingles.
Here's our pick of the world's most shocking and funniest dating horror stories!
1. Great Sexpectations…
2. Dreaming of a kiss in frozen food aisle – may lead to you being frozen out!
READ MORE: Check out our date ideas for New York, San Francisco, Los Angeles or Chicago
3. Toying with disaster!
4. Clearly, a smart phone does not mean a smart man…
READ MORE: Start dating on the go – The EliteSingles App
5. Personal grooming is paramount to impressing your date!
6. Ain't sayin' she's a gold digger…
7. Fancy a home-made anti-pasti?
READ MORE: What not to do on date – Our members' dating deal breakers
8. Mummy's boy alert!
9. Don't be your date's pawn…
READ MORE: Need help writing your dating profile? Follow our advice here
10. Best be prepared for all weather conditions…
11. Could there ever be a worse chat-up line?
READ MORE: Make a great first impression by following our first date tips
12. Perfect for a speedy getaway…
13. How desperate can you be?
14. Make yourself feel at home…
15. She knows what she wants – she really sticks to her gums…
16. Probably not the best way to Finnish an evening…
17. An un-convent-ional date
READ MORE: Interested in meeting Christian singles? Find faith and love with EliteSingles
18. From a rollercoaster of love to terror on the teacups…
19. Racing to get to your date on time?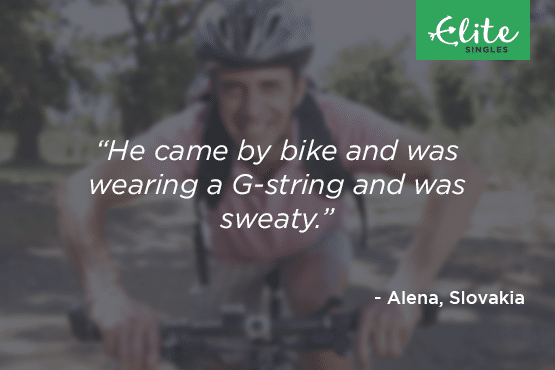 READ MORE: Look out for the warning signs that your crush is emotionally unavailable
20. The economic crisis hit hardest in Ireland…
21. Who says guys are scared of committment?
All the names have been changed in order to protect the anonymity of the respondents.